Joe Rogan, Georges St-Pierre, and Chad Mendes recently experimented with the carnivore diet for various reasons.
This post covers why they started, what they ate, their experience of the carnivore diet, and whether they would stay on the carnivore diet.
Joe Rogan
Aged 53, Joe Rogan is an American comedian, podcaster, and mixed martial arts commentator. Beginning his career as a standup comedian, Rogan later ventured into acting and his love of martial arts got him into mixed martial arts commentary roles.[1]
Rogan provides color commentary for the UFC, Spike Television, and FOX. He also appeared in a couple of films and a comedy series and was the show host of Joe Rogan Questions Everything and many series of Fear Factor on NBC.[2]
Rogan hosts The Joe Rogan Experience, one of the most-watched podcasts on the web. His podcasts cover a wide range of topics from politics, martial arts, fitness to pop culture. His guest list includes people like Elon Musk, Mike Tyson, Edward Snowden, Russell Brand, Kayne West, Lance Armstrong, and Graham Hancock.[3]
In one of his Joe Rogan Experience episodes in 2018, Rogan talked to Jordan Peterson, a Canadian professor of psychology about Peterson's experience with the carnivore diet.[4] Peterson was urged by his daughter, who had cured her autoimmune condition and depression with the beef and water only diet, to try it out. Peterson also found significant improvement in his health.[5] I believe, due to the popularity of Rogan's show, this episode has helped the carnivore diet greatly in attracting public attention.
Why did Joe Rogan start the carnivore diet?
Rogan looks after himself pretty well. As a Brazilian jiu-jitsu black belt and multiple-time Tae Kwon Do champion, Rogan is very disciplined with his training and according to him has a very strict diet, except for occasional cheat days.
The diet is pretty strict in terms of no bread, very few carbs, no sugar, no bullshit. Healthy food, a lot of vegetables and a lot of game meat, mostly wild game… I take vitamin supplements every day. I take multivitamins, I take probiotics, I take vitamin B12 and D [6]
So, in general, Rogan eats clean, low carb, mostly meat and vegetables, and takes his supplements but he has days when he goes out and eats whatever he wants.
January has become the vegan month or 'Veganuary' for many people around the world since 2014.[7]
But in January 2020, Joe Rogan went the opposite way, he went carnivore.
In one of his Joe Rogan Experience episodes, Joe Rogan said that the reason why he went carnivore was at a weigh-in in December, he hit the scale at 204 pounds (92.5 kg) and was fat-shamed by some people.
What did Joe Rogan eat?
Joe Rogan said he ate mainly grass-fed beef and elk. He also ate bacon for the fat to make up for the fact that elk meat is lean. He also mentioned eating liver.
However, Rogan said he took a lot of vitamin and mineral supplements and fish oil to cover his bases throughout the experiment.
What was Joe Rogan's experience on the carnivore diet?
The following are what Joe Rogan experienced after going carnivore for one month:[8]
Weight loss. Rogan lost 12 pounds (5.4 kg) and reported that his belly fat and love handles were gone
Energy boost. Rogan said his energy level was amazing and there was no crash at all, there were no ups and downs and peaks and valleys
Aches and pains went away
Improvement with an autoimmune condition. Rogan has vitiligo, a condition where the skin loses its pigment cells resulting in discolored patches in parts of the body. Rogan said that bunches of white spots went away by the end of the experiment.
Rogan, however, reported that he had suffered from non-stop diarrhea for two weeks but after that, it was totally normal.
Below is a photo of Rogan showing off his ripped physics in an Instagram post.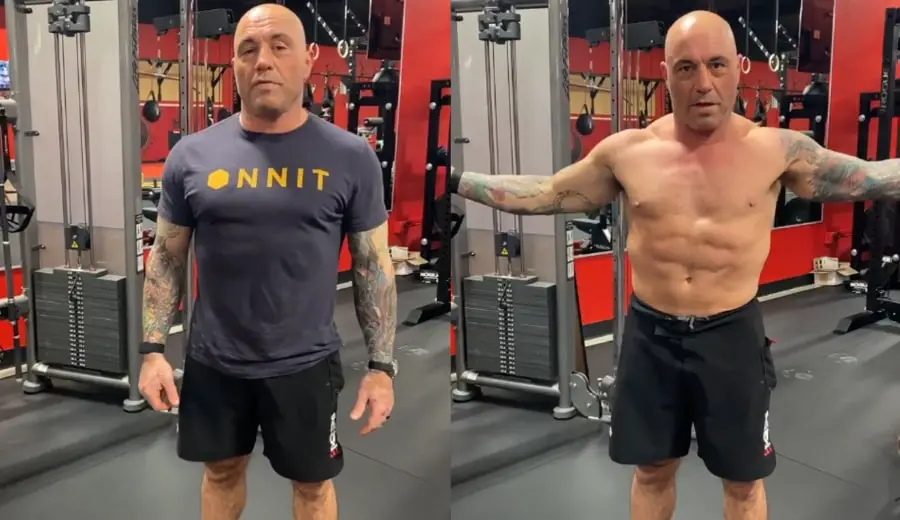 Whether Joe Rogan would continue with the carnivore diet?
After a month on the diet, he went and had some Italian food including pasta. He then went to Disneyland where he had ice cream and other unhealthy food. He said that he was getting back pains and knee pains which went away when he was on the carnivore diet.[9]
But in January 2021, he said in an Instagram post that he was doing another carnivore month to see what happened. He reported no diarrhea like last time. However, I haven't found more detailed information on the results of his second experiment yet. [10]
Georges St-Pierre
Aged 40, Georges St-Pierre or GSP is a Canadian professional mixed martial artist and Ultimate Fighting Championship (UFC) world champion who holds black belts in both Kyokushin karate and Brazilian Jiu-Jitsu. With a pro-MMA record of 26-2-0 (win-loss-draw), GSP is regarded as one of the greatest fighters in mixed martial arts history.[11, 12, 13]
GSP is a three-time UFC Welterweight Champion. He was also named the Canadian Athlete of the Year by Rogers Sportsnet in 2008, 2009, and 2010.[14]
He retired as the reigning Welterweight Champion in December 2013 but returned to the Octagon in November 2017 at UFC 217 to defeat Michael Bisping to win the Middleweight title.[15]
On December 7, 2017, after being diagnosed with ulcerative colitis, a chronic inflammatory bowel disease condition that results in inflammation and ulcers on the inner lining of the colon and rectum. GSP vacated his UFC middleweight title and officially announced his retirement from the professional MMA competition on February 21, 2019.[16, 17]
GSP recently appeared in Captain America: The Winter Soldier and The Falcon and The Winter Soldier starring as a villain Georges Batroc.[18]
The information below on his experiment with the carnivore diet is based on the podcast he did with Dr Paul Saladino recently.[19]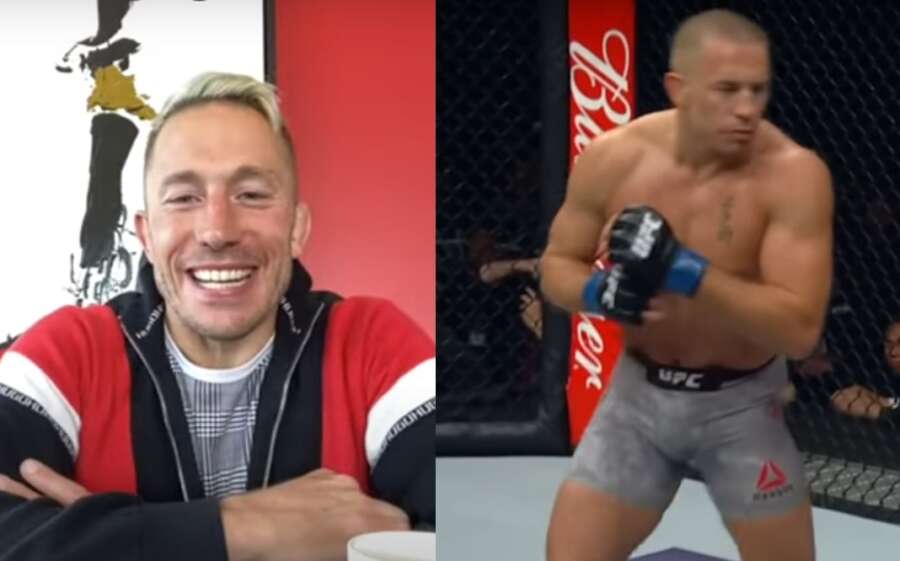 Why did Georges St-Pierre start the carnivore diet
GSP said he was simply curious about the diet. He heard Joe Rogan and a couple of friends tried it and so he wanted to try it out to see what it could do for his body.
He also mentioned on one of his Instagram posts that he visited the Maasai Tribe with his dad and that the Maasai was mostly exclusively carnivores but appeared healthy. And that got him thinking about trying the carnivore diet.[20]
For your information, the Maasai are a pastoralist tribe living in Kenya and Northern Tanzania. Their traditional diet consists almost entirely of milk, meat, and blood. Two-thirds of their calories come from fat, and they consume 600 – 2000 mg of cholesterol a day. Despite the massive cholesterol intake, their health markers would make a mockery of modern dietary advice. They have low blood pressure, low overall cholesterol levels, low incidences of cholesterol gallstones, as well as low rates of coronary artery diseases such as atherosclerosis. [21, 22]
What did Georges St-Pierre eat?
GSP ate a lot of grass-fed meat and lots of organs like liver, heart, and kidney which he usually didn't eat. This is unsurprising, given the fact that he was guided by Dr Paul Saladino, a vocal advocate of the nose-to-tail principle on the carnivore diet.
GSP said if he was still hungry afterward, he'd eat some berries and bananas but no processed food.
For the first three weeks, he didn't season at all apart from salt but in the last week, he added a bit of spice.
What was Georges St-Pierre's experience of the carnivore diet?
GSP was happy with the results of his experience:
Weight loss. He lost 4 pounds and felt lean and strong. He said he'd never been lean like that his entire life and so he did a photoshoot. Below is a photo he posted on his Instagram account which doesn't need any further comment
Ulcerative colitis. His doctor told him that he'd have the condition for the rest of his life but he doubted it because he hadn't felt it for a while
Arthritis. GSP said he got arthritis on one of his big toes and a few weeks into the diet, the inflammation disappeared
He noticed a lot less waste on the diet and that his body seemed to absorb well what he ate.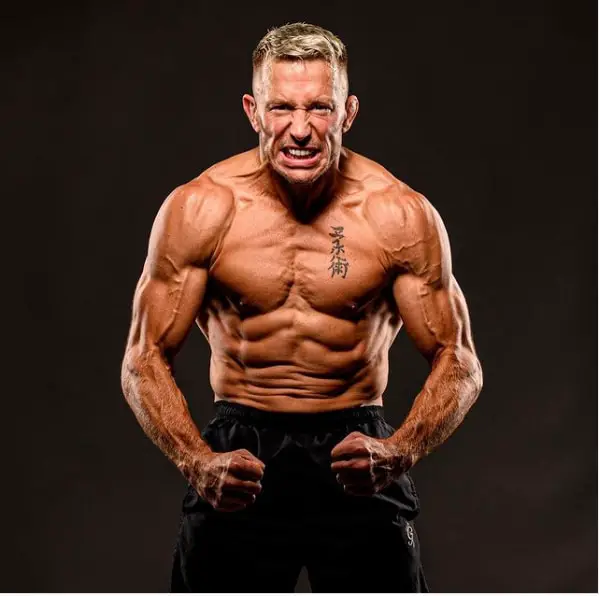 Whether Georges St-Pierre would continue with the carnivore diet?
GSP said that he'd incorporate what he learned from the experiment into his diet for the rest of his life. Though it doesn't look like he'd be strictly carnivore. He said he wouldn't eat vegetables but maybe fruits and maybe pasta sometimes.
Chad Mendes
Chad Mendes' career
Aged 36, Chad Mendes is a retired American professional mixed martial artist, who fought as a Featherweight in the Ultimate Fighting Championship (UFC).
After a successful collegiate wrestling career, Chad Mendes joined the mixed martial arts team Team Alpha Male and made his first professional MMA debut in September 2008. He won his first 11 bouts. Three-time UFC title challenger but coming up short in all, Mendes retired in July 2019 with a record of 18-5. He now runs several business ventures. [23, 24]
One of Chad Mendes' businesses is Finz & Featherz which provides a variety of guided hunting and fishing adventures for people wanting to get into the outdoor lifestyle. This seems to fit in with his carnivore diet experiment discussed below.[25]
Chad Mendes' psoriasis
Chad Mendes suffers from psoriasis, an immune-related disease that causes inflammation in the body resulting in red, itchy scaly patches, most commonly on the knees, elbows, trunk, and scalp. Inflammation caused by psoriasis can impact other parts of the body. It may also develop into psoriatic arthritis causing swelling, stiffness, and pain in the joints and areas surrounding the joints. [26, 27]
Psoriasis is a common, long-term chronic condition with no proven cure. More than 8 million people in the US and about 125 million people worldwide have psoriasis. Currently available treatments are to help manage symptoms only. [28, 29]
Chad Mendes' carnivore experiment
I haven't got much information about his carnivore experiment apart from his Instagram post on 22 April 2021 which is quoted in full below.[30]
Ok guys here's a little update on my psoriasis while on the Carnivore diet. The first pics were taken the day I started the diet March 1st. We are almost two months in and this is what my legs currently look like. The crazy thing is, I have been told by two different dermatologists that's "diet has no affect on psoriasis" ????????‍♂️

I feel Great and getting lean as well. I wonder how I would have felt during my athletic career?? Anyone else having great success with this?
A picture says a thousand words. The improvement in his psoriasis condition is truly remarkable.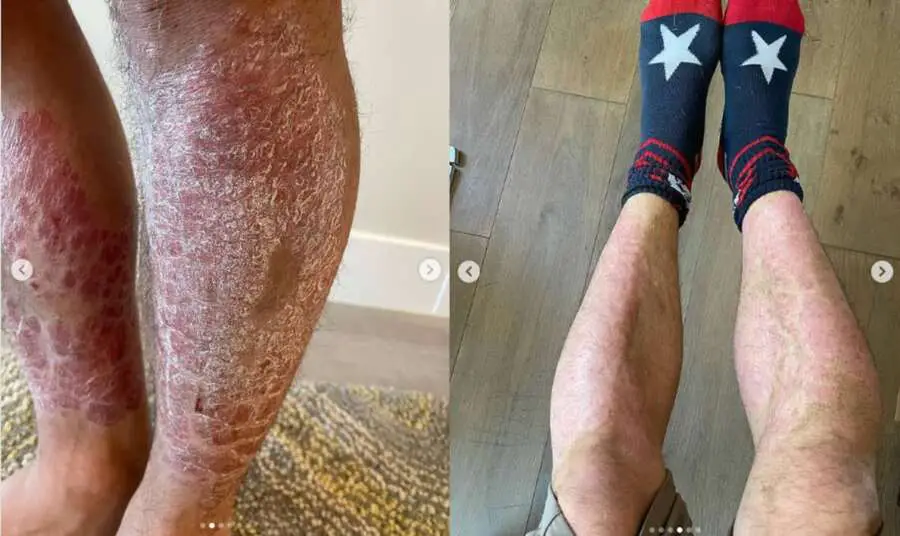 Conclusion
The common result that Joe Rogan, Georges St-Pierre, and Chad Mendes all experienced is an improvement in their autoimmune conditions. Both Joe Rogan and Georges St-Pierre experienced weight loss and a reduction in inflammation.
If you would like to give the carnivore diet a try, here is a detailed guide on how to start the carnivore diet step-by-step.
Disclaimer: The information in this post is for reference purposes only and not intended to constitute or replace professional medical advice. Please consult a qualified medical professional before making any changes to your diet or lifestyle.