This post will show you how to make your own multipurpose cream/moisturizer/balm/lotion from beef tallow using just two ingredients.
If you have been on the carnivore diet for a while and experienced the wonderful healing power of meat but still use stored-bought skincare products, you've got to try this out.
Why bother making a tallow cream
Beef tallow is rich in saturated fats, monounsaturated fats, and cholesterol and has moderate amounts of omega 3 and omega 6 fatty acids. It also contains various essential vitamins and minerals in small quantities. Those nutrients are exactly what the human skin is made up of. [1, 2, 3]
The human skin is a metabolically active organ and it can utilize nutrients from exogenous sources either through diet or topical application. [4]
Therefore, when you apply cream such as one made from beef tallow, it can absorb nutrients contained therein directly, support the building of a healthy protective outer skin layer, prevent moisture loss, aid in damage repair, and protect skin from premature aging.
Using just two ingredients, beef tallow and an essential oil of your choice, you will have a nourishing cream that is free from many potentially harmful chemicals in commercial skin care products. [5]
For example, some chemicals used as fragrances have been linked to health problems including cancer, reproductive toxicity, and allergies. Heavy metals such as lead and mercury which are known to affect the nervous system, reproductive health, hormones, and immune system are also found in a variety of skincare products. [6]
Below is a list of ingredients in GUERLAIN Abeille Royale Rich Day Cream, currently being sold on Amazon for around $100 for a 50 mil jar.
Aqua (Water), Glycerin, Caprylic/Capric/Succinic Triglyceride, Propanediol, Dicaprylyl Ether, Mel (Honey), Cetyl Alcohol, Hydrogenated Coco-Glycerides, Dimethicone, Diglycerin, Isostearyl Hydroxystearate, Lauroyl Lysine, Jojoba Esters, Glyceryl Stearate, C10-18 Triglycerides, Polyglyceryl-3 Beeswax, Royal Jelly, Peg-75 Stearate, Phenoxyethanol, Parfum (Fragrance), Ascorbyl Glucoside, Stearyl Alcohol, Dimethiconol, Avena Sativa (Oat) Kernel Extract, Acrylates/C10-30 Alkyl Acrylate Crosspolymer, Caprylyl Glycol, Steareth-2, Ceteth-20, Steareth-20, Tocopheryl Acetate, Xanthan Gum, Sodium Citrate, Tetrasodium Edta, Glyceryl Polymethacrylate, Sodium Hydroxide, Centella Asiatica Leaf Extract, Sodium Hyaluronate, Glycyrrhiza Glabra (Licorice) Root Extract, Peg-8, Tocopherol, Citric Acid, Sodium Benzoate, Hyaluronic Acid, Butylene Glycol, Sodium Lactate, Zingiber Officinale (Ginger) Root Extract, Bht, Palmitoyl Hexapeptide-12.
I don't know about you but I'm not willing to put all those chemicals on my face without knowing what they will do to my body because I know that those chemicals will penetrate the skin and get into the bloodstream pretty quickly.
According to the Environmental Working Group, an independent non-profit organization, "since 2009, 595 cosmetics manufacturers have reported using 88 chemicals, in more than 73,000 products, that have been linked to cancer, birth defects or reproductive harm". [7]
With this homemade tallow cream, you know exactly what goes in there, and if you try it out and like it, you can experiment with different essential oils to create a personal favorite nourishing cream just for you.
The many potential uses of tallow cream
You can use this amazing cream for almost every skincare need. Here are a few examples of its potential uses:
Keep your skin hydrated and nourished by applying it to your face in the morning and evening after showering or before going to bed
Protect your skin from harsh pool chemicals by applying it to your whole body before going for a swim
Fix cracked heels by rubbing it on your heels and putting on bed socks before going to bed
For those who wash or sanitize their hands frequently, apply it after every wash to keep your hands moisturized and soft
Help alleviate dry skin conditions such as eczema and psoriasis (but make sure to check with your dermatologist first)
Soothe sunburned or windburnt skin by applying it generously
For nappy rash, patch test it first before using it on your baby's delicate skin.
And, of course, you can also gift this versatile and luxurious cream to your loved ones so they can enjoy its benefits too!
Ingredients
1/2 cup of grass-fed tallow (or 1 lb (~450g) of grass-fed beef fat)
25 drops of essential oils of your choice.
Grass-fed beef fat
Please try to get grass-fed beef fat if you can. Go to your local butcher and ask for beef fat and they will either give it to you for free or sell you very cheaply.
Because one batch will last you a long time so it's worth getting the best quality beef fat you can even if you have to pay a few extra bucks for it.
Essential oils
You can use any essential oil that you like and know that you can tolerate. Examples of essential oils are:
Lavender oil
Rosehip oil
Castor oil
Argan oil
Orange oil
Lemon oil
Jasmine oil
Peppermint oil
Chamomile oil
Tea tree oil
Eucalyptus oil
Lemongrass oil
Rosemary oil
Frankincense oil
Oregano oil.
You can blend some essential oils together to create a more complex fragrance, for example, lavender oil and jasmine oil, eucalyptus oil and tea tree oil, orange oil and lemongrass oil, or peppermint oil and oregano oil. (If you would like to experiment with blending essential oils, check out this comprehensive guide).
Always choose the best quality essential oils that you can afford (e.g. organic and cold-pressed).
The essential oil gives the tallow cream a natural fragrance and helps soften the cream. However, because essential oils are potent and can cause irritation in high doses, you should avoid using too much in your cream.
A 2% essential oil dilution is generally considered safe for adults while around 1% is recommended for the elderly and children. You should also follow the dilution guideline of each essential oil you use as well. [8]
I'm mindful that essential oils are plant-based and we don't know their full potential impact on our health so I try to keep it at around 1% dilution and rotate through a few different essential oils so that I'm not exposed to a particular one for too long.
If you want to test out a particular essential oil for the first time, I recommend just trying out a very small batch (e.g. six drops of essential oil mixed with one tablespoon of purified beef tallow). This way, in case you are sensitive to a specific essential oil, you won't waste too much tallow.
To soften the cream further, you can add 2 tablespoons of liquid oil like avocado oil, olive oil, or macadamia oil. However, I usually don't because I find the tallow cream is soft enough thanks to the added essential oil and the whipping process.
Instructions
If you already have tallow, go straight to Step 4 below.
If you don't have tallow, you can make tallow from beef fat by following the instructions below.
Step 1
Cut the beef fat into bite sizes (e.g. one inch cubes). The smaller the pieces, the less cooking time you will need.
Note that 1lb of beef fat is more than enough to make a jar of tallow cream. However, this will save you a lot of time in the long run. You can keep the remaining purified tallow in an airtight container in the fridge and next time you can just whip up another jar of facial cream in just a few minutes.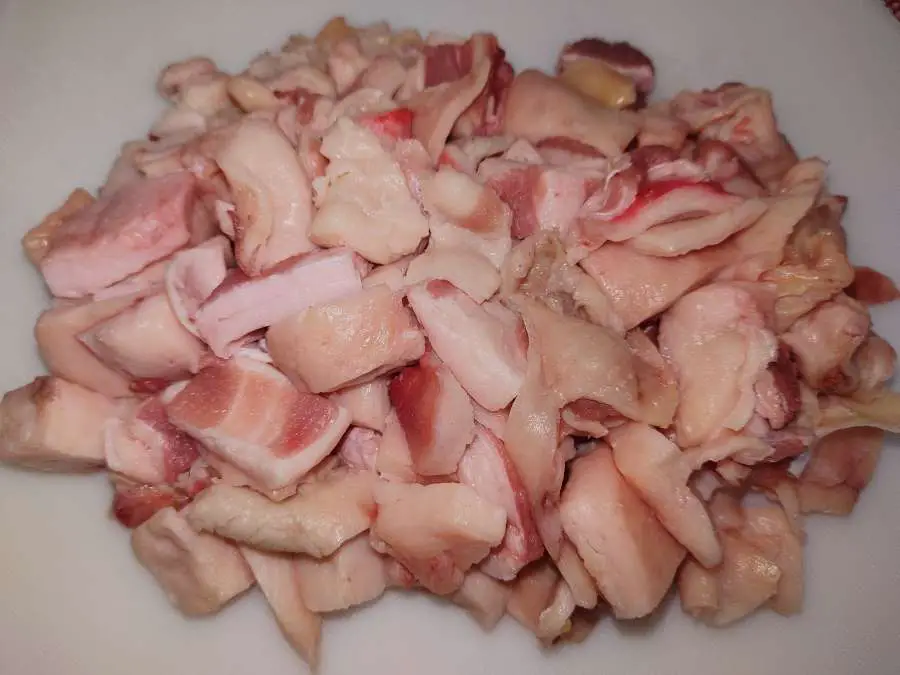 Step 2
Heat a large frying pan on low to medium heat (a skillet or a pot is fine too).
Add the fat pieces to the pan.
Simmer on low heat until the fat has melted and all the fat pieces have shrunk and turned golden.
You will need to stir a bit at the beginning but once there is sufficient liquid fat in the pan and the fat pieces can move around freely, you can stop.
The remains of the fat pieces are called fat chips, cracklings, greaves, or graves that you can eat as a delicious snack.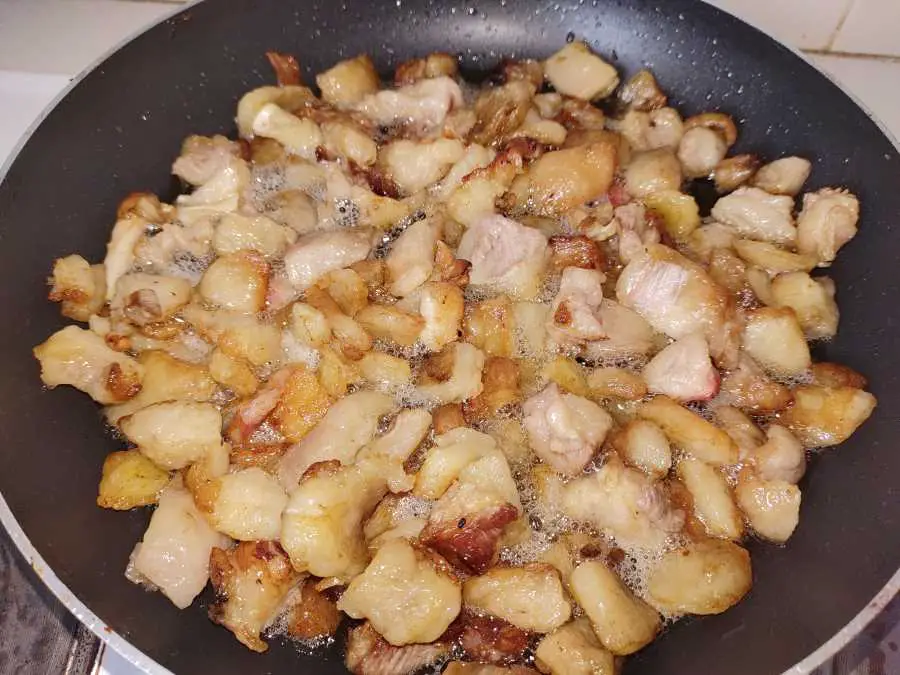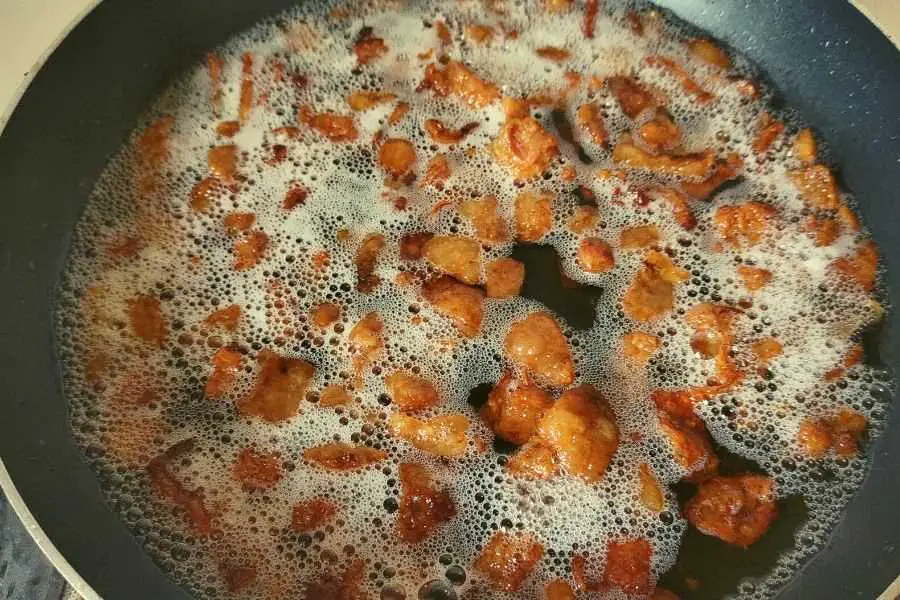 Step 3
Remove the fat chips with a slotted spoon or a strainer and then strain the liquid fat one more time using a fine cloth to remove the small fat bits.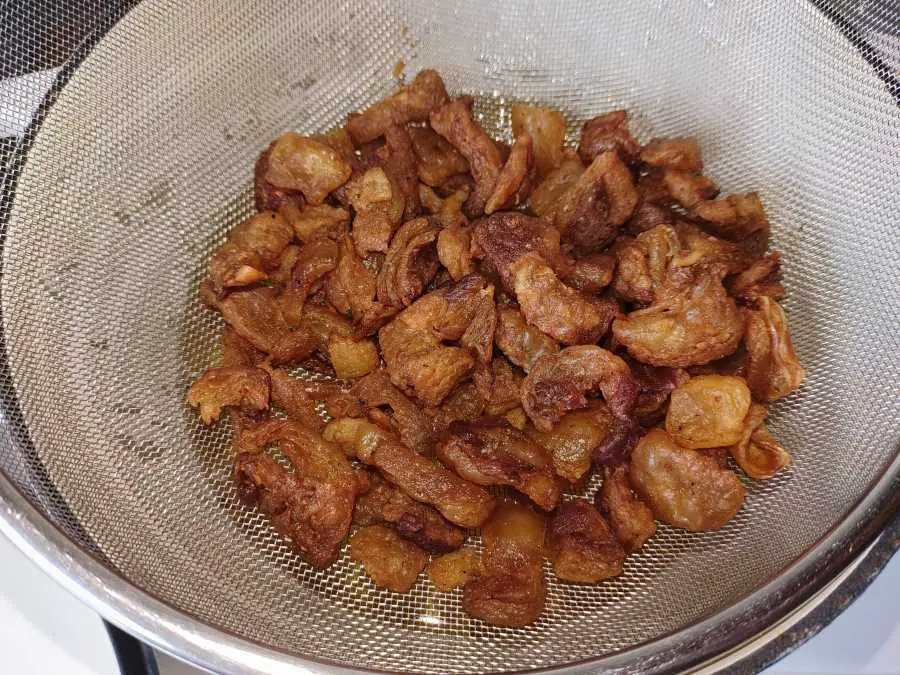 Step 4
Pour the rendered fat (tallow) into a pot, add 4 cups of purified water and two tablespoons of salt, bring to a boil then simmer for half an hour.
The water and salt will help purify the rendered fat and get rid of the beef odor.
Let the pot cool and transfer it to the fridge. The fat should be solid after 4 hours.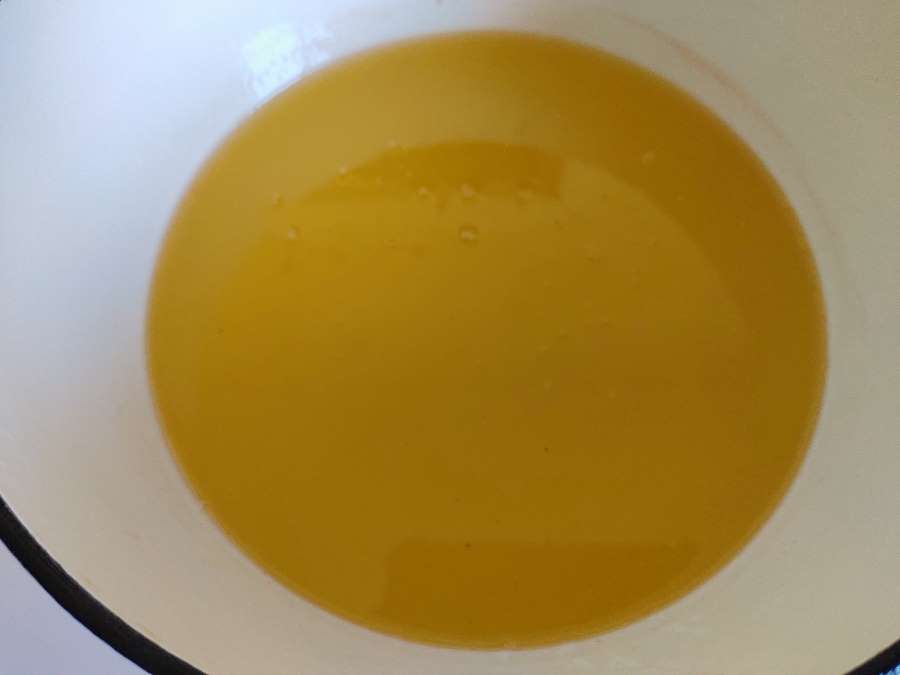 Step 5
Remove the solid tallow from the pot and scrape off the brown bit at the bottom of the tallow chunk.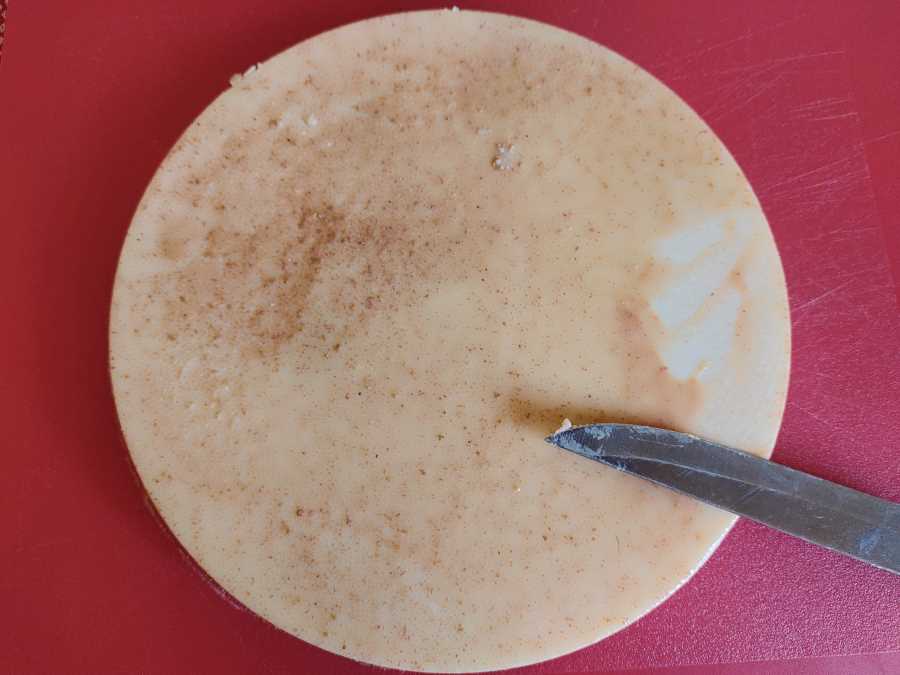 Step 6
Now we will repeat the purifying process a second time to remove the beef odor further.
Return the tallow to the pot, add 4 cups of water, bring to a boil, and simmer for half an hour.
Let the pot cool, transfer it to the fridge, and keep it there till the tallow is solidified.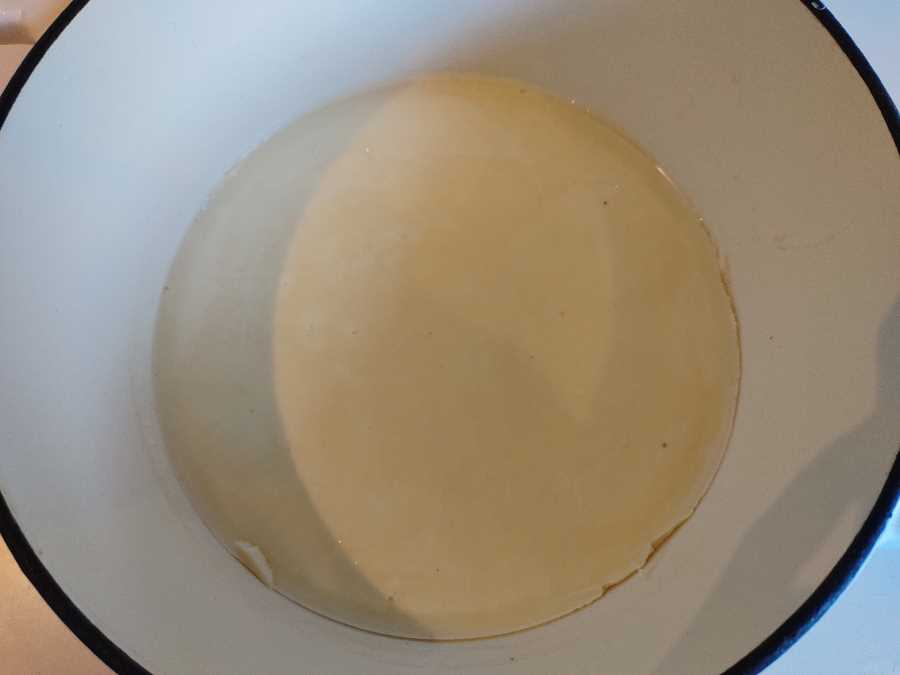 When you lift the solid fat out of the pot this time, it should be a lot whiter and there should be only a very thin layer of brown impurity at the bottom of the tallow chunk.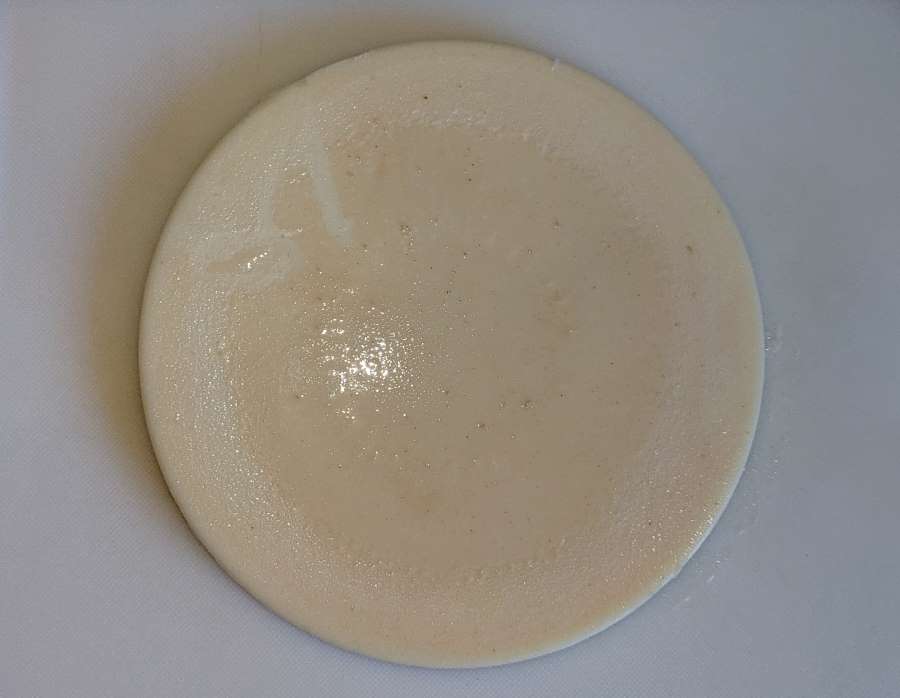 Use a knife to scrape all the brown bits off. The tallow is now very white and it is hard to detect any beef odor at all.
It is now ready to be used for making your tallow cream.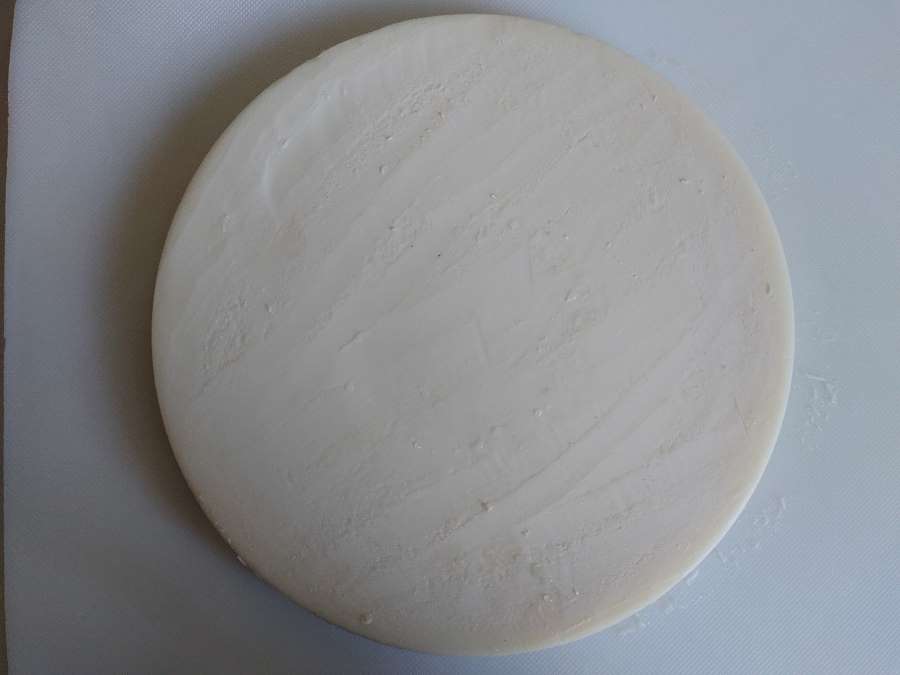 Step 7
Soften half a cup of tallow by leaving it at room temperature for half an hour, place it in a cup and then in a bowl of hot water, or place it in the oven in a low-temperature setting for a few minutes. The tallow should be soft like cream and not melted.
Place the softened tallow in a mixing bowl, add the essential oil of your choice, and use an electric mixer to mix for a few minutes or until the cream is very soft and fluffy.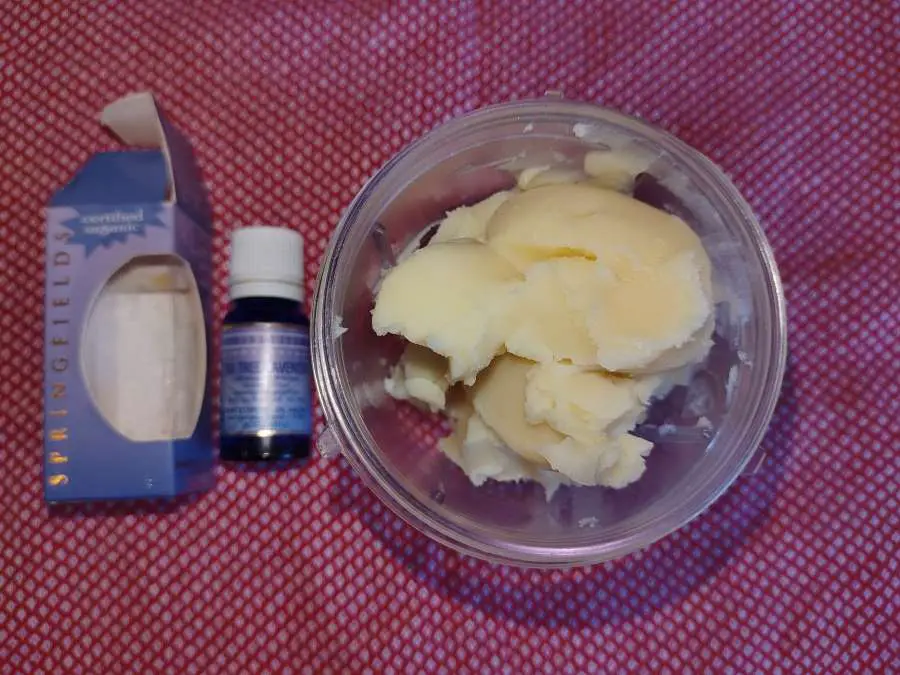 Transfer the tallow cream into a jar and keep it in the cupboard or some cool and dark place, away from direct sunlight. It generally keeps well at room temperature (unless it is the middle of the summer where you are and you don't have a very good cooling system in the house!).
This tallow cream is soft, light, and not greasy at all. It smells wonderful and has no trace of beef tallow odor (thanks to the double purifying process).
You don't need to use a lot of the cream. For example, if applying it to your face, just a small dollop on your fingertip would be enough. Your skin will absorb the tallow cream well and it won't feel greasy at all.
This pure and nourishing cream will last you from a month to half a year depending on how often you want to use it.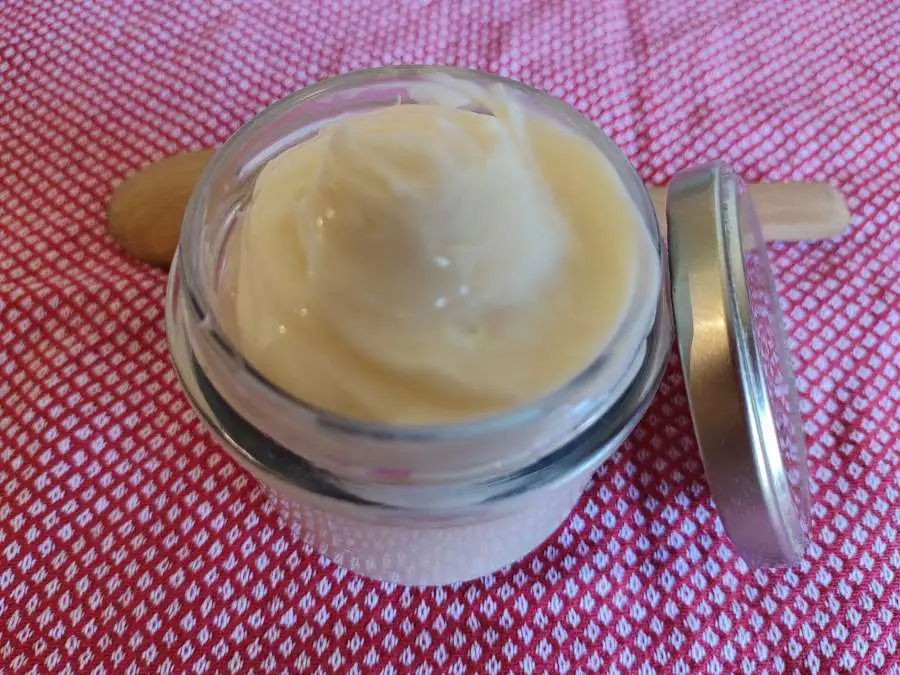 Acknowledgment
I would like to thank Kimberly Hower, one of our readers from the US for suggesting this recipe and wish her all the very best with her health journey!
Other posts you might be interested in:
What Are the Best Ways to Cook Meat on the Carnivore Diet?
What Is the Best Meat to Eat on the Carnivore Diet?
How to Blanch Meat to Make Raw Meat Safer
Super Nutritious Carnivore Meatball Recipe
Best Sources of Omega 3 on the Carnivore Diet
Best Sources of Vitamin C on the Carnivore Diet
What Do Hardcore Carnivores Eat in a Day?
Disclaimer: The information in this post is for reference purposes only and is not intended to constitute or replace professional medical advice. Please consult a qualified medical professional before making any changes to your diet or lifestyle. Please check out our disclaimer for more detail.