After you've adapted to the carnivore way of eating, you will find that you rarely need to snack.
But if you just start the carnivore diet, it is a good idea to keep some snacks handy so you don't run into situations where you are forced to buy something unhealthy.
This super easy recipe will show you how to make shredded beef. Apart from liver, beef snack is probably the best snack you can eat.
This is because beef is super nutritious and should be your go-to food on the carnivore diet.[1] Its nutritional profile is better than pork or chicken, especially if they are from factory farms.
While factory-farmed cows still spend most of their lives outdoor, factory-farmed pigs and chickens are likely to spend their entire lives in crowded sheds or cages. Furthermore, while factory-farmed cows are allowed to graze and fed grains, a diet relatively close to their natural diet, pigs and chickens are fed mostly a grain-based diet. Pigs and chickens are omnivores and their diets in factory farms are very different from their natural diets.[2, 3, 4, 5, 6, 7]
Of course, you can buy similar snacks like Biltong and beef jerky but making your own snacks will save a lot of money and you know what goes into your food.
Here is an example of what is in a pack of beef jerky that you can buy from Walmart[8]:
Beef, Water, Seasoning Blend (Salt, Brown Sugar, Sugar, Mustard, Monosodium Glutamate, Dehydrated Garlic, Red Pepper, Sodium Erythorbate, Onion Powder, Spice Extractive), Brown Sugar, Sweet Baby Rays Jerky Base (Vinegar Powder,(Dextrin, Modified Food Starch, Vinegar Solids), Tomato Powder, Pineapple Juice Powder, Maltodextrin, Pineapple Juice), Worcestershire Sauce Powder, (Distilled Vinegar, Molasses, Corn Syrup, Salt, Caramel Color, Garlic Powder, Sugar, Spices, Tamarind, Natural Flavor and Sulfating Agent) Maltodextrin), Natural Smoke Flavor, Spices and Not More than 2% Silicon Dioxide Added to Prevent Caking), Sodium Nitrite.
Here is a list of ingredients in another well-known beef jerky that you can buy on Amazon:[9]
Beef, water, sugar, brown sugar, contains less than 2% salt, beef stock, flavoring, hydrolyzed vegetable protein (wheat, corn, soy), monosodium glutamate, sodium lactate, natural grill flavor (maltodextrin, flavor, modified food starch, corn syrup solids, tri-calcium phosphate), corn syrup solids, sodium erythorbate, thiamine hydrochloride, sodium nitrite.
I don't know about you but long lists of ingredients like these usually put me off straight away.
Now let's make your own healthy beef snack the way you like it.
Ingredients
700 grams of lean beef, for example, sirloin tip side steak, top round steak, eye of round steak, flank steak, fillet mignon. If you can't afford to get the lean cuts, get cheaper cuts and trim off all visible fat
3 tbs fish sauce. Fish sauce usually just has anchovy extract, salt and a little bit of sugar. If you don't have or don't like fish sauce, substitute with 3 tbs of soy sauce or 2 tsp of salt
1 cup bone broth or use water if you don't have bone broth handy (see here for an easy bone broth recipe and many practical tips)
Other optional seasonings:

1 tbs honey or sugar
2 tsp garlic powder
1/2 tsp chili powder
a pinch of pepper
I don't mind a bit of plant-based seasonings but if you are sensitive to those, use just beef, salt, and bone broth for this recipe.
I also usually only follow recipe instructions the first time when I try to make something new. After that, I would experiment with seasonings that I like and create my own version. So if you can tolerate plant food okay, try mixed spices, smoked paprika, Worcestershire sauce, onion powder, or whatever your favorite spices are next time till you get what you like most.
Instructions
Cut into pieces of 4-centimeter length, remove any visible fat or connective tissues
Add fish sauce and optional seasonings, mix well and leave to marinate for 1 hour
Transfer to pan, add bone broth, bring to boil then simmer for 15 minutes
Drain the beef but keep the remaining juice
You then have three options depending upon your preference:

Option 1 (if you like large pieces): Shred the beef chunks with your hands into large pieces (or use a knife if you like to cut them into pieces of even size) then return to pan, add the juice, on medium heat, stir regularly till the shredded pieces are dry to the touch. This is how I prefer, it saves time and the large pieces are easy to eat on the go.
Option 2 (if you like very small pieces of shredded beef): Shred the beef chunks with your hands into small pieces. Use mortar and pestle to pound till the beef texture become fibrous. Return to pan, add the juice and on medium heat, stir regularly till the shredded pieces are dry to the touch. This is very time-consuming but it was how my mother used to make it when we were growing up. At the time we usually ate with a bowl of rice!
Option 3 (if you want to save time or make for a small person): use a blender and blend till the beef chunks turn into a very fine powder. Return to pan, add the juice, use medium heat, stir regularly till the meat powder is completely dry.
Let the shredded beef cool completely before transfer to a glass jar.
It is good in the fridge for a week and up to 6 months in the freezer.
If you prefer pork, here is a recipe for shredded pork.
This is what I started with (beef, salt, fish sauce, garlic powder and a pinch of pepper):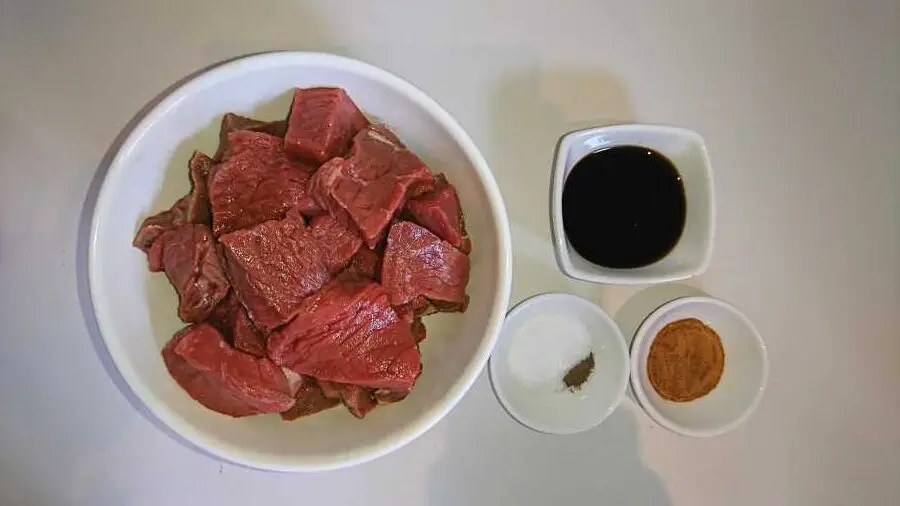 This is the loosely shredded version:
This is a more finely shredded version: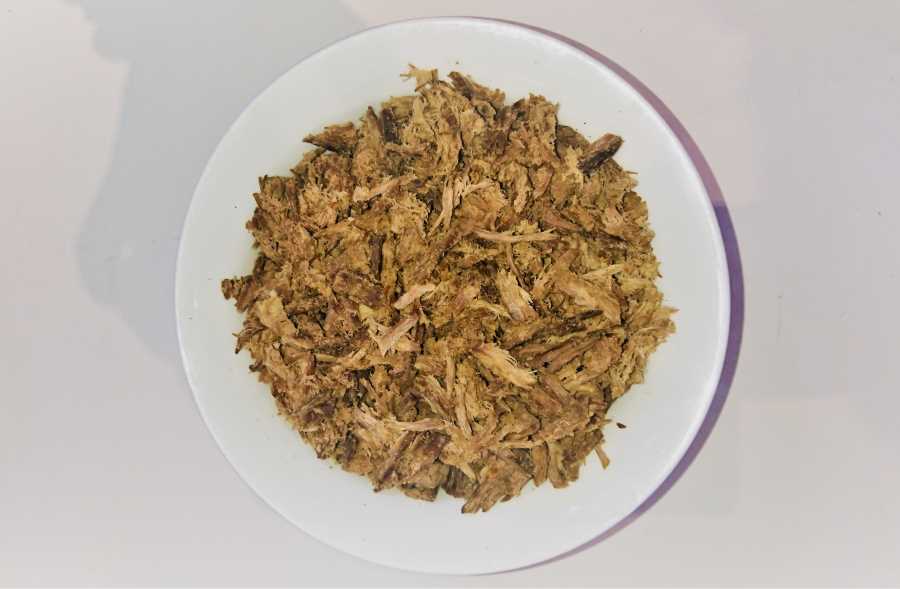 This is blended version vs mortar-and-pestle version: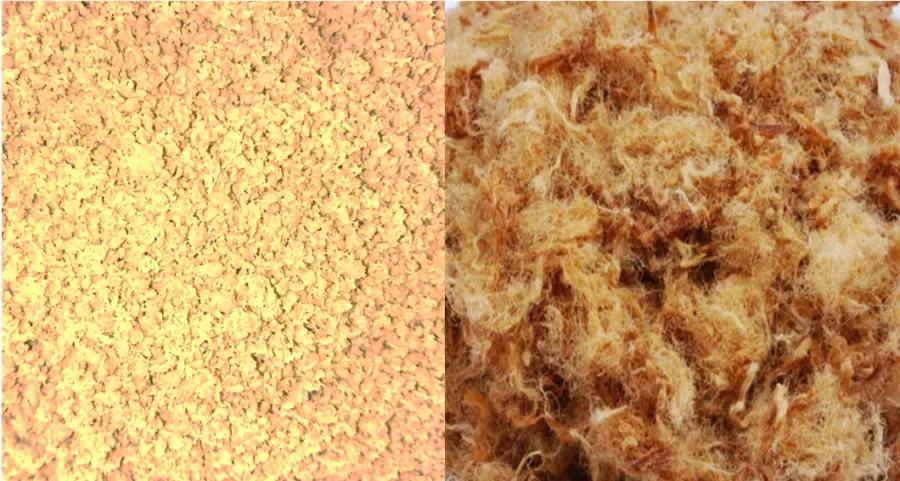 My final product in the jar:
I seriously need to improve my photography skills.
Though it may not look very appealing to you, it tastes awesome!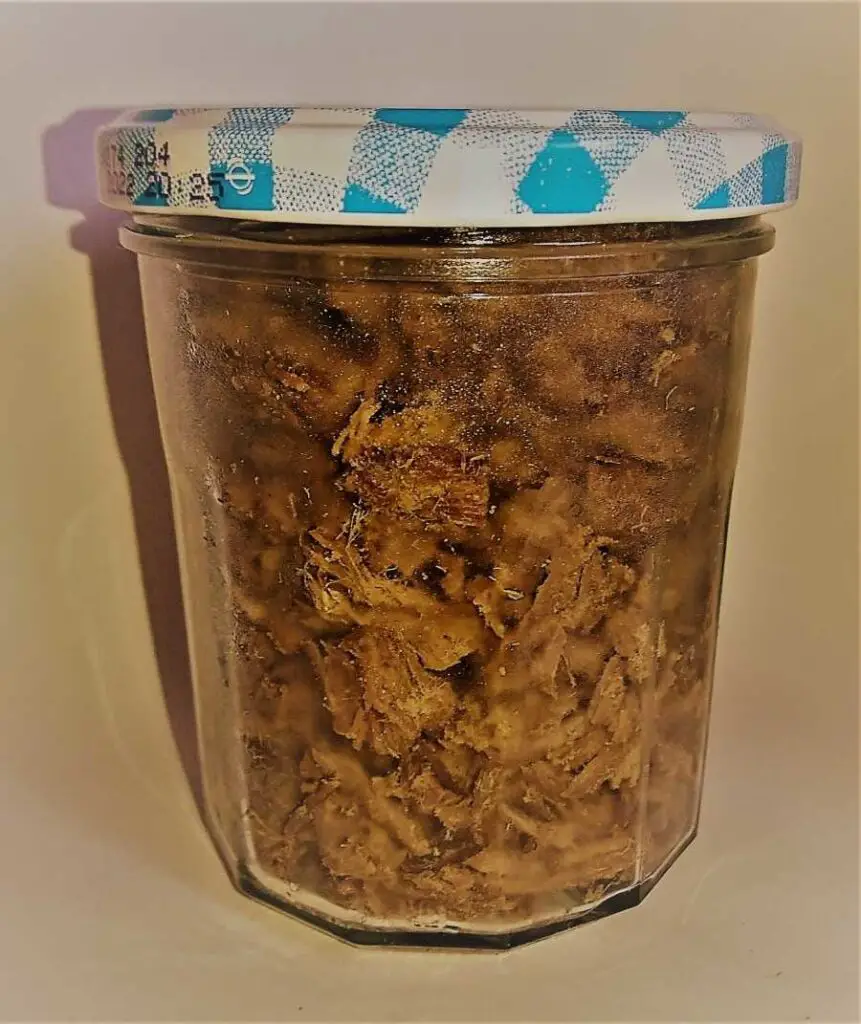 Disclaimer: The information in this post is for reference purposes only and not intended to constitute or replace professional medical advice. Please consult a qualified medical professional before making any changes to your diet or lifestyle.