Pork crackling is one of my favorite carnivore snacks.
If you've never tried making pork crackling before, it may sound a bit intimidating but I can assure you that it is probably one of the easiest carnivore dishes that you've ever cooked. It is even easier than pan-searing a steak!
With just around 5 minutes of prep, you'll have a delicious snack that tastes so much better than store-bought pork crackle that is also healthier too. Pork crackle is also very high in collagen, one of the most abundant proteins in the human body that is critical for skin, bone, and joint health and muscle strength. [1, 2, 3, 4, 5]
This homemade pork crackle has only two ingredients: pork rind and salt and is free from stuff like vegetable oil, dextrose, maltodextrin, monosodium glutamate, tapioca starch, seasonings, and added flavors that can be found in commercially produced pork crackles.
For example, here's what I found on a premium pork crackling package:
Ingredients: Cooked Pork Rind (88%), Seasoning (Salt, Hydrolysed Vegetable Protein, Wheat, Flour, Dextrose, Flavours (Soy), Flavour Enhancer (621), Yeast Extract, Sugar, Dehydrated Vegetables, Food Acid (330), Yeast, Spices, Canola Oil, Cooked in Lard.
Probably due to the color of the pork skin that pork crackling is often mistaken for being very high in fat. But pork crackling is actually very high in protein, most of which is collagen. A 100-gram serving of pork crackling has 61 grams of protein and 31 grams of fat. [6]
How to make pork crackling
Ingredients
You just need pork rind and salt.
You can cook as much pork rind as you would like but generally no more than one pound (~450g) at a time because you don't want to cook too much and end up eating chewy pork crackles for a few weeks.
If you have a big family and everyone enjoys it, of course, you can make more but test it out with a small batch first.
As to salt, the general ratio is 1 teaspoon per pound of pork rind but you can reduce or add more to suit your taste. Salt makes it taste better but I have also tried it without salt and it still turned out okay.
Method
Step 1
Preheat the oven to 400°F (~200°C). Note that it's important to make sure the oven is already at the required temperature by the time you place the pork rind into the oven. This helps to get the crackling to happen instantaneously.
If your oven doesn't have a function that lets you know when pre-heating is done and you don't have a thermometer to check, pre-heating for 15 to 20 minutes is sufficient for the internal temperature to reach 400°F.
Your oven should also be clean and free of food debris to prevent the oven from smoking and releasing carbon-based fumes which are not good for your health as well as potentially ruins the taste of the food being cooked.
Step 2
Pat the pork rind dry with a paper towel. Sprinkle the salt on the fat side and rub it in well and evenly.
Use a sharp knife and cut the pork rind into snack sizes. Some people score the rind instead of cutting it out but I find that cutting the rind into bite-sized pieces helps it cook evenly and much faster.
Place the pork rind pieces on a baking tray with the rind side up.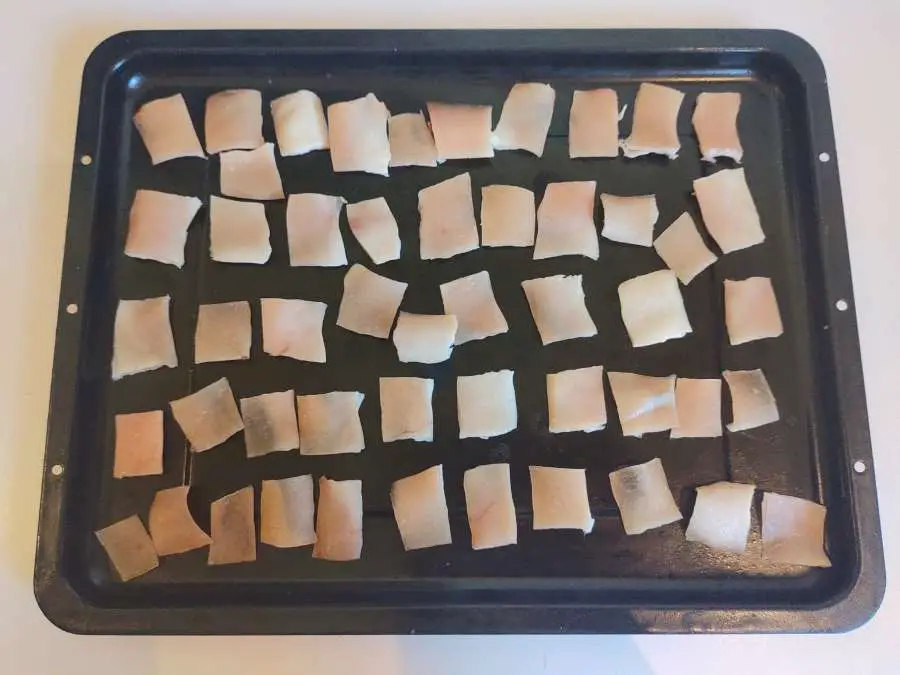 I usually have the rind side up to check if the pieces have all puffed up but I have tried the fat side up as well and it works just fine.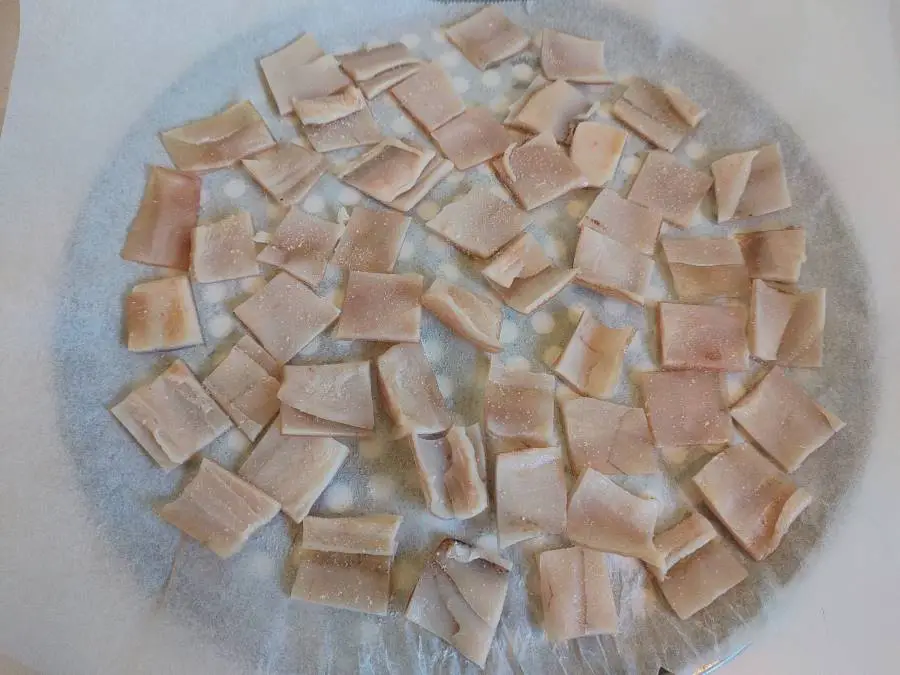 Note that the thinner the pork rind, the quicker it will cook. If the pork rind you buy happens to have quite a lot of fat and a bit of meat underneath, use a sharp knife to remove as much fat as you can (remember to practice good knife safety). You will end up with crispier, puffier, and more delicious pork crackles.
Step 3
Place the tray in the middle of the preheated oven.
Bake for 10 minutes or until the pork rind puffs up with many bubbles on the surface and turn golden and crispy.
Some pork rind pieces may not puff up fully (see the picture on the left below). Those will be chewy. Separate them and return them to the oven for a couple more minutes until the surface puffs up fully with bubbles.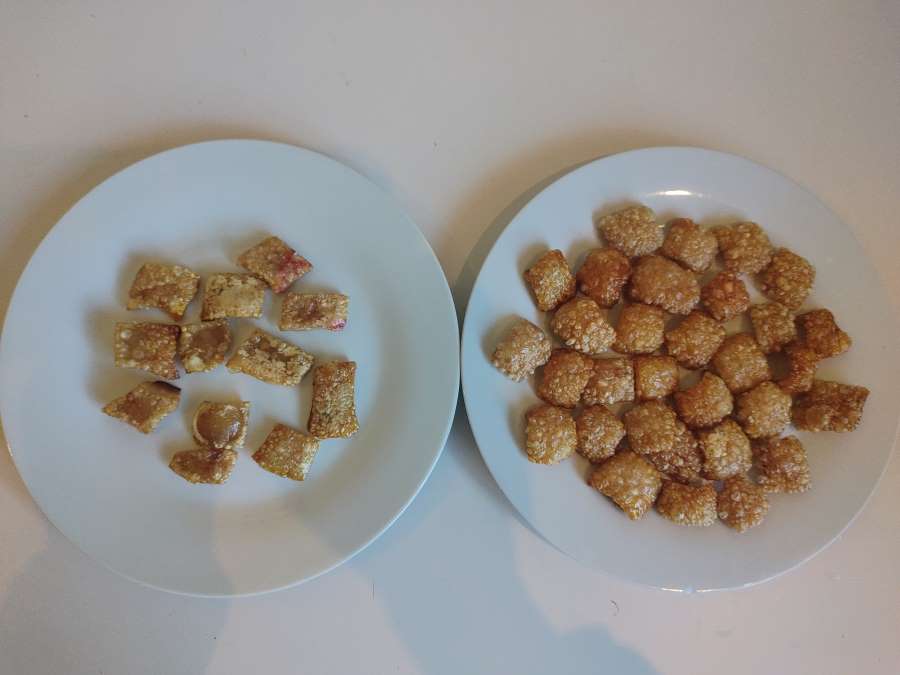 Step 4
Use a pair of tongs to transfer the pork crackles to a plate and let them cool completely before storing them in an airtight glass jar or container.
There will be some rendered fat on the baking tray which you can pour into a jar and use later for cooking.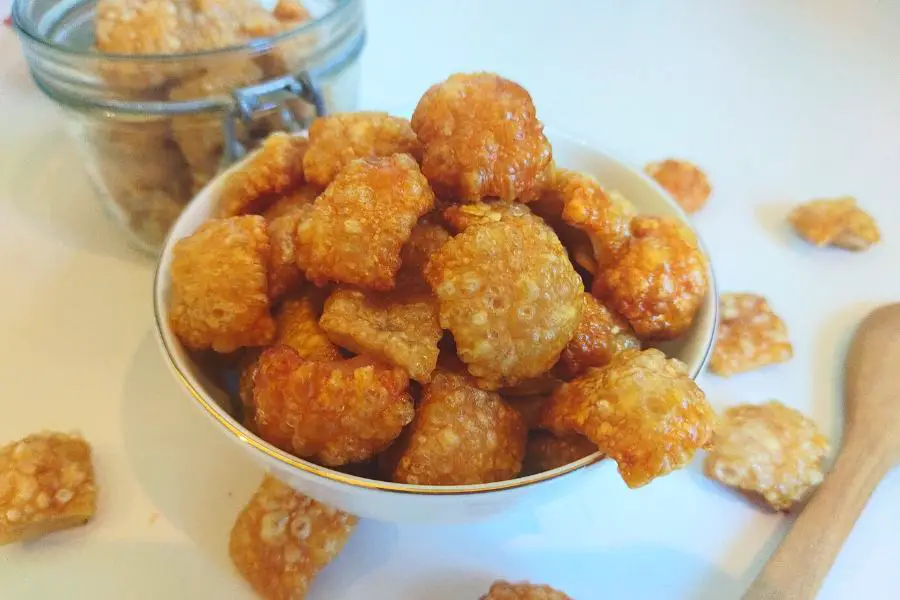 Commercial pork is generally high in polyunsaturated fats which is unhealthy so it's not a good idea to eat a lot of pork but you should be able to enjoy pork crackles guilt-free as a sometimes snack. [7, 8, 9] 
I usually have no more than a handful of these delicious and super crispy pork crackles at a time. They are great as a snack or for taking along for a picnic or when traveling. If you have little people in the house, introduce them to these pork crackles – they are a thousand times better than all the "healthy" chips you can buy from the grocery stores.
Other posts you might be interested in:
How to Make Your Own Multi-Purpose Cream from Tallow
Pure and Natural Homemade Deodorant for Carnivores
Carnivore Beef Liver Pate Recipe
Disclaimer: The information in this post is for reference purposes only and is not intended to constitute or replace professional medical advice. Please consult a qualified medical professional before making any changes to your diet or lifestyle. Please check out our disclaimer for more detail.