This is a very easy braised pork feet and eggs recipe that is truly carnivore and still tastes amazing.
Pork feet (also called pork trotters) are a great source of collagen which is what makes your skin firm and glowing, your hair voluminous and shining, your nails pink and smooth, and your joints healthy.
As you get older, your body's ability to produce collagen decreases at the rate of about 1.0%-1.5% per year.
By the time you are in your 80s, your collagen production decreases by 75% compared to when you are in your 20s.
Therefore, it becomes more important to incorporate a lot of collagen-rich food into your diet as you age.
Pork feet, chicken feet, bone broth, and beef tendons are all great sources of collagen.
If you like a bit of seasoning or if you are cooking for your family or friends who are not carnivores, please check out this braised herbal pork feet recipe.
Ingredients
4 pork feet
12 medium eggs (pasture-raised if possible)
2 tbsp apple cider vinegar
2 strips bacon
1½ tsp sea salt
3 tbsp honey
tallow for frying
Instructions
Step 1
Ask the butcher to cut each trotter into three pieces for you (though you can also cook them whole, they'll fall apart easily once cooking is finished).
Remove any remaining hair on the pig trotters with a blow torch and then wash them.
Please get pasture-raised pork trotters if you can. Because not many people are into eating odd bits like these, you can get pasture-raised pork trotters very cheaply.
Step 2
Dry the trotter pieces. Add salt and vinegar. Mix well. Cover with clip wrap and let marinate in the fridge overnight.
You can skip this marinating step if you don't have any problems eating unmarinated cooked pork.
According to a study by the Weston Price Foundation, consuming un-marinated pork can cause coagulated blood in some people and make them feel a bit unwell afterward.
The authors of the study speculate that raw pork might contain an unidentified toxin that heat doesn't destroy but a combination of heat and fermentation with salt and acid does.
Step 3
Boil the eggs for about 6 minutes, let cool, and peel.
If the eggs have been refrigerated, take them out in advance to bring them to room temperature first.
To prevent the eggs from cracking, start them in cold water, use enough water to cover all the eggs, and bring them to a boil gradually then simmer them on medium heat.
Eggs are very nutritious and if you can get pasture-raised eggs or eggs from your own backyard chickens, it's even better.
Step 4
Heat a thick-base frying pan to high heat. Add 2 tbsp tallow. Add a few boiled eggs at a time and fry them till golden outside.
Because this recipe doesn't use soy sauce or other sauces that can give the dish the caramel color when cooked, you'll need to fry the eggs and the pig trotters to achieve this.
Step 5
Heat the frying pan on high heat again.
Add three pieces of pig trotters to the pan. Brown them till golden outside.
Repeat with the remaining trotter pieces.
It's important to avoid crowding the pan with too much meat because it will lower the heat and make it impossible to brown the meat. The meat will start cooking in its own juice instead.
Browning the trotters help bring out the flavor of the meat (through the Maillard reaction) and gives the dish a more appetizing caramel color at the end.
Braised pig trotter recipes often call for plenty of soy sauce to help enhance the dish's flavor and give it a brown color. However, browning can achieve similar effects without using soy sauce which often contains soy, wheat, sugar, and preservatives.
Step 6
Place the bacon strips in a large stock pot (you can leave the bacon strips whole or chop them up roughly, they are just for added flavor).
Add the trotter pieces.
Add the fried eggs and honey.
Add water enough to cover the trotters and eggs. You can also use a light bone broth (fat skimmed off) instead of water if you like.
Bring to a boil then lower heat and simmer for 3 to 4 hours or until fork tender.
Note that the cooking time may vary due to the age of the animal, the size of the trotter pieces, and whether it's pasture or conventionally raised. Older animals, larger sizes, and pasture-raised trotters will need more cooking time.
Once the trotter pieces have become very tender, increase the heat to reduce the sauce by about one-third.
If you have a pressure cooker in the house, you can cook it on high for about 30 minutes. After that, turn off the pressure cooker and let the pressure release naturally for about 20 minutes.
Transfer (carefully so the trotter pieces don't fall apart) to a serving bowl and serve.
This is a sticky melt-in-your-mouth tender and flavorsome dish that goes well with lean steak, organ meat, or drier dishes like meatloaf.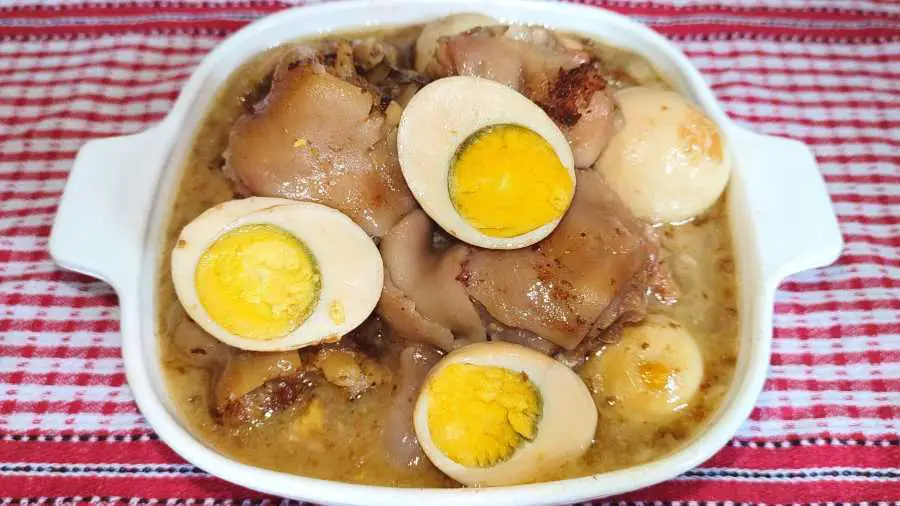 Remember to eat the bone marrow too, it is very delicious also full of nutrients and offers many health benefits.
Save the bones by keeping them in a bag in the freezer for making bone broth later on. There is still plenty of collagen left on the bones even after a few hours of cooking.
Other recipes that you may be interested in:
How to Make Tallow – the Best Cooking Oil on the Carnivore Diet
Carnivore Sweet & Sticky Chicken Drumstick Recipe
Carnivore Pan-fried Salmon Recipe
---
Disclaimer: The information in this post is for reference purposes only and not intended to constitute or replace professional medical advice. Please consult a qualified medical professional before making any changes to your diet or lifestyle.