If you can handle seasonings, check out this easy animal-based beef liver jerky recipe below which was sent to us by our lovely reader, Laurie B.
Why Should You Make Your Own Beef Liver Jerky?
Beef liver is truly a nutritional powerhouse because it is incredibly rich in many essential nutrients including high quality protein and a wide range of vitamins and minerals as well as beneficial bioactive compounds. [1]
A 100-gram serving of beef liver delivers an impressive range or essential nutrients, many of which in extremely high quantities: [2, 3]
Calorie: 135 cal
Protein: 20.4 g
Fat: 3.63 g
Thiamine (B1): 0.189 mg (16% DV)
Riboflavin (B2): 2.76 mg (212% DV)
Niacin (B3): 13.2 mg (82% DV)
Pantothenic acid (B5): 7.17 mg (143% DV)
Vitamin B6: 1.08 mg (64% DV)
Folate: 290 mcg (73% DV)
Vitamin B12: 59.3 mcg (2471% DV)
Vitamin A: 16900 IU (552% DV)
Vitamin E: 0.38 mg (3% DV)
Vitamin D: 49 IU (6% DV)
Vitamin K: 3.1 mcg (3% DV)
Calcium: 5 mg (0% DV)
Iron: 4.9 mg (27% DV)
Magnesium: 18 mg (4% DV)
Phosphorus: 387 mg (31% DV)
Potassium: 313 mg (7% DV)
Zinc: 4 mg (36% DV)
Copper: 9.76 mg (1084% DV)
Manganese: 0.31 mg (13% DV)
Selenium: 39.7 mcg (72% DV)
Choline: 333 mg (61% DV)
Betaine: 4.4 mg
Cholesterol: 275 mg.
Beef liver is indeed nature's best multivitamin! You can certainly find synthetic multivitamins on the market that includes a wide range of essential nutrients but nothing can ever compare to real, highly bioavailable, nutrient-packed food like beef liver.
The best way to eat liver is freshly cooked liver but if you are not used to the taste of freshly cooked liver, beef liver jerky with various seasonings can help reduce the distinctive flavor of organ meat and make it a lot more palatable.
One of the benefits of making your own beef liver jerky is the control over its ingredients, allowing you to experiment with spices and herbs to find out what you like best.
Beef liver jerky is a super nutritious and protein-packed snack that's great for travel or to curb sudden cravings. It provides a healthy and nutritious alternative to commercial snacks, often laden with excessive sugar, artificial flavors and other unhealthy additives.
Ingredients
4 lbs beef liver
2 tbs salt
1½ tsp black pepper
½ tsp white pepper
1½ tsp garlic powder
4 cups apple cider vinegar
1 tbs chili pepper powder or flakes
1½ tsp ground ginger
2 tbs honey.
Instructions
Trim the beef liver to remove any membranes, blood vessels and connective tissues
Slice liver into thin strips, about 1/8 to 1/2 inch thick, depending on your preferences. It's important to cut them as uniformly as possible to ensure even drying
Place liver strips in a pot. Cover the liver strips with water and bring to a boil for three minutes. Drain water and dry the liver strips with a paper towel
In a bowl, combine all seasonings and mix until all the ingredients are well combined
Place the liver strips in a container or a baking dish. Add the seasoning mix. Cover and marinate for 24 hours. This allows the flavors to penetrate the liver slices
If you have a food dehydrator, preheat it to 160°F (71°C). If using an oven, set it to the lowest possible temperature, usually around 150-170°F (65-75°C)
Remove the marinated liver strips from the container, shake off any remaining marinate and pat them dry with paper towels. This helps remove excess marinade and reduce drying time
Place the liver strips on dehydrator trays or on a baking tray with parchment paper in a single layer. Leave space between the liver strips to allow for proper air circulation
Dehydrate the liver for approximately 4-8 hours in a dehydrator or 6-10 hours in an oven. The exact time will depend on your equipment and the thickness of the liver slices. Check the liver slices regularly, turn them over half way through and rotate trays if necessary for even drying
Your beef liver jerky is ready when it's dry yet slightly pliable. To test it, try bending a piece; it should crack but not snap in half. If you prefer completely dried liver jerky for extended shelf life, be sure to cut the liver into very thin slices
Allow the jerky to cool completely before transferring it to an airtight container or resealable bags. Store in a cool, dry place. If properly dried and stored, beef liver jerky can last for several weeks.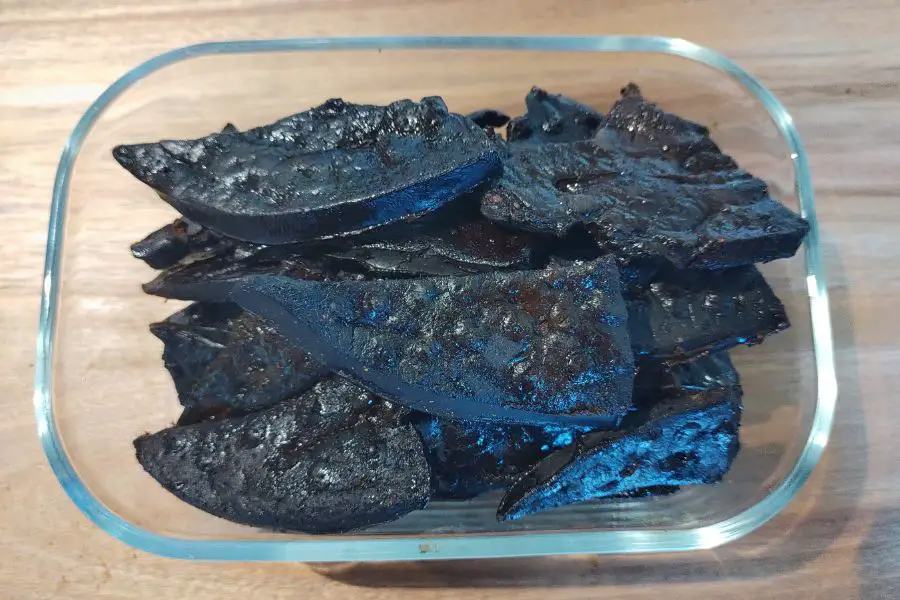 Other posts you might be interested in:
Delicious Homemade Corned Beef Tongue
Carnivore Meatball Snack Recipe
Carnivore Pork Crackling Recipe
Carnivore Beef Liver Pate Recipe
Carnivore Sticky Lamb Ribs Recipe
How to Make Your Own Multi-Purpose Cream from Tallow
What Is the Best Meat to Eat on the Carnivore Diet?
What Are the Best Ways to Cook Meat on the Carnivore Diet?
Reference
Homemade Grass-fed Beef Liver Jerky with Oven
Disclaimer: The information in this post is for reference purposes only and is not intended to constitute or replace professional medical advice. Please consult a qualified medical professional before making any changes to your diet or lifestyle. Please check out our disclaimer for more detail.