This is a very easy braised pork belly and eggs recipe that only needs a few ingredients. But the result is a delicious melt-in-your-mouth pork belly without the need for soy sauce and various seasonings that this dish usually calls for.
Pork is very nutritious. However, conventional pork from factory farms can be high in PUFA and some people don't feel as well eating pork as when they eat beef or lamb.
If you can get pasture-raised pork or wild boar meat, you don't need to worry about it, eat as much pork as you like.
However, if you can only afford conventional pork, eat pork sparingly and this recipe can be an occasional treat or add a bit of variety to your carnivore diet.
Ingredients
2 lb (900g) boneless pork belly (pasture-raised or wild boar if possible)
9 medium eggs (pasture-raised if possible)
2 tbs tallow or lard
1½ tsp sea salt
2 tbs apple cider vinegar
1 cup bone broth
3 tbs honey
Instructions
Step 1
Cut the pork belly into roughly 2×1 in (5×2.5 cm) pieces.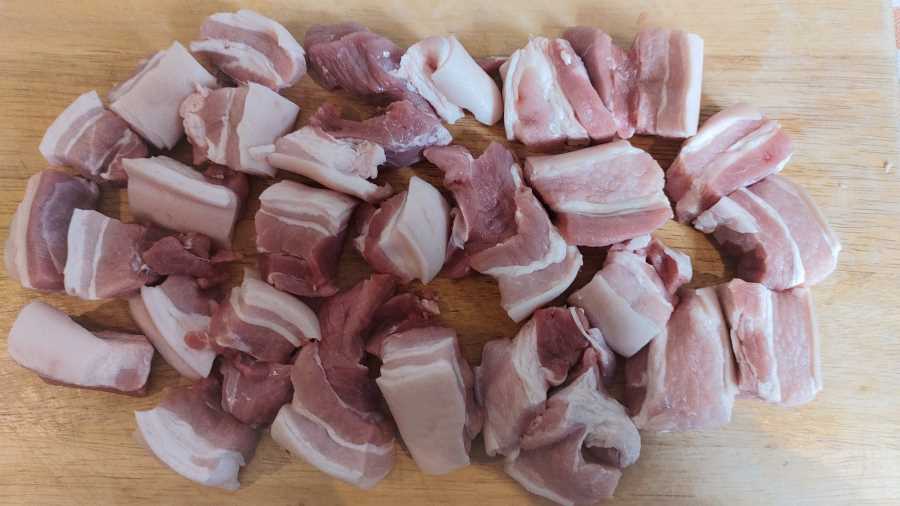 Step 2
Add salt and apple cider vinegar. Mix well. Cover and marinate overnight.
Apple cider vinegar is not carnivore, so only use it if you can handle it.
I have started using apple cider vinegar to marinate pork since reading a Weston Price study that finds that consuming un-marinated pork can cause coagulated blood in some people.
The authors of the study speculate that raw pork might contain an unidentified toxin that heat doesn't destroy but a combination of heat and fermentation with salt and acid does.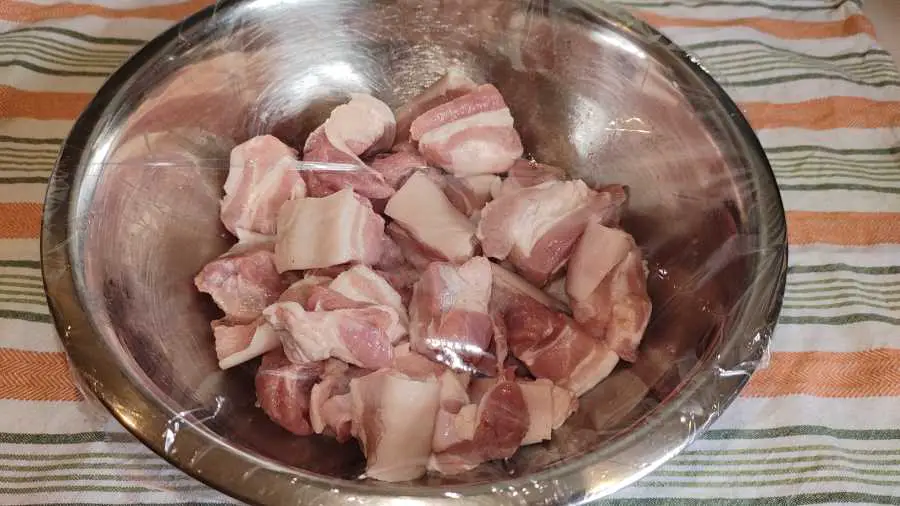 Step 3
When the pork belly is ready to be cooked, boil the eggs for about 6 minutes, let cool and peel.
If the eggs have been refrigerated, take them out in advance to bring them to room temperature first.
To prevent the eggs from cracking, put them in cold water, use enough water to cover all the eggs, and bring them to a boil gradually then simmer them on medium heat.
Eggs are also very nutritious and if you can get pasture-raised eggs or eggs from your own backyard chickens, it's even better.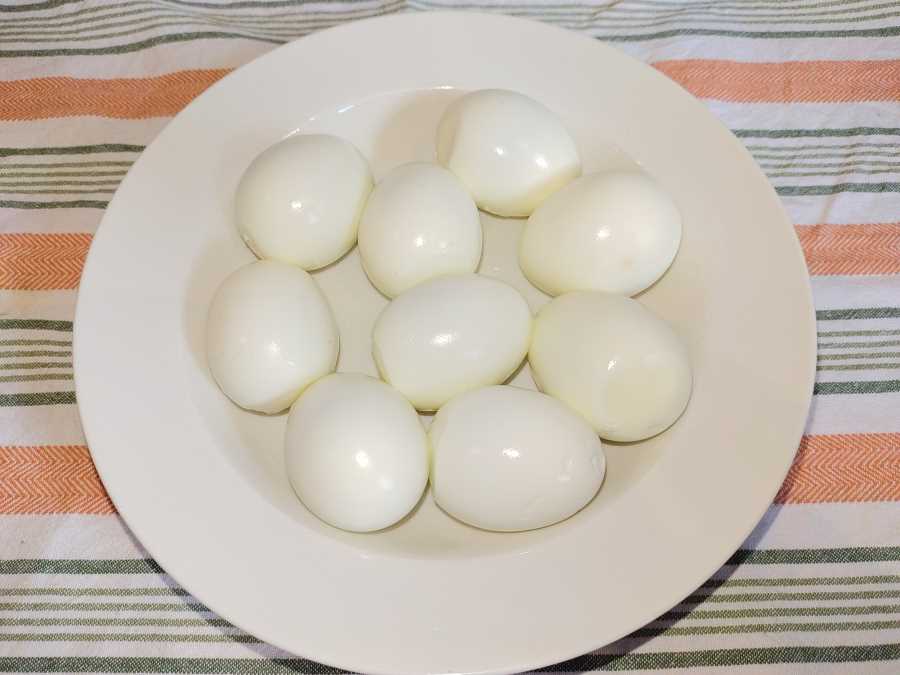 Step 4
Heat a thick-base frying pan on high heat. Add tallow. Fry the boiled eggs till golden outside.
Because this recipe doesn't use soy sauce or other sauces that can give the braised pork belly and eggs the caramel color when cooked, you'll need to fry the eggs as well as the pork belly to achieve this.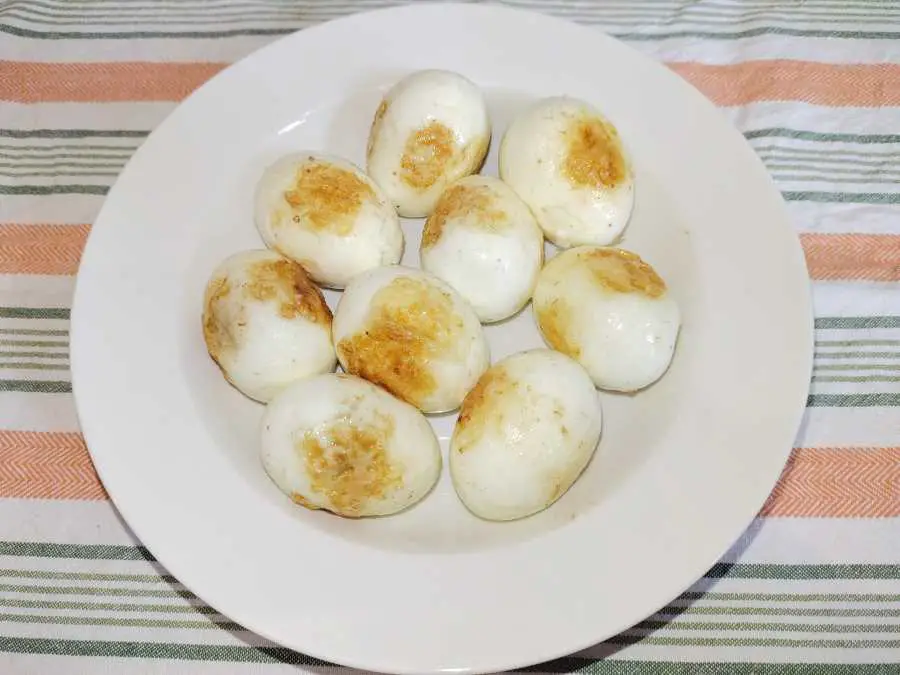 Step 5
Heat a frying pan on high heat.
Fry the pork belly pieces till golden on both sides. This will help improve the flavor of the dish and give it a more appetizing color.
Do not crowd the frying pan.
If you put too many pork belly pieces in at once, it'll be hard to achieve the caramel color and the pork belly will be cooked in its own juice resulting in a grey color instead.
Fry them in a few batches if you use a small frying pan.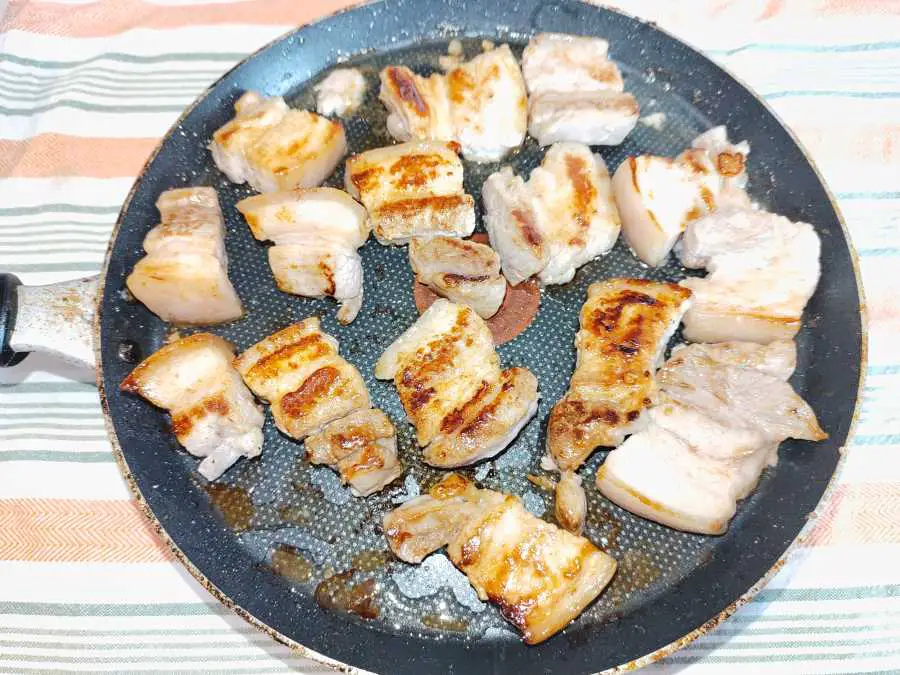 Step 6
Transfer fried pork belly pieces and fried eggs into a pot. Add bone broth and honey. Simmer for 1 hour and 30 minutes on low heat.
You don't need to stir while simmering. The juice from the pork and the bone broth should be enough to cover the eggs and the pork belly.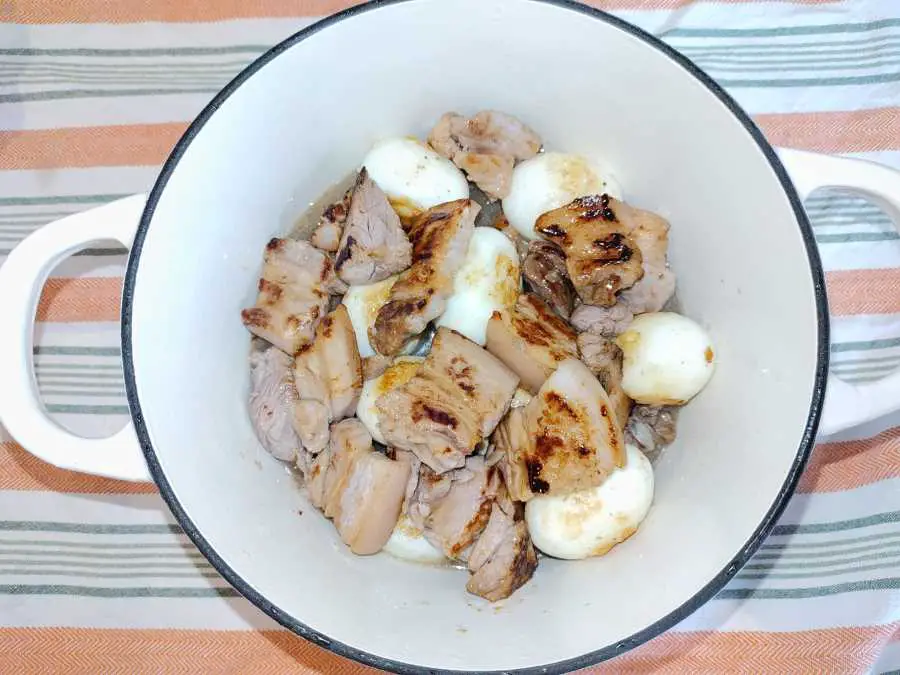 Braised pork belly and eggs is a nutritious and hearty one-dish meal. It's good on its own because the fatty pork belly goes well with the eggs which are on the lean side.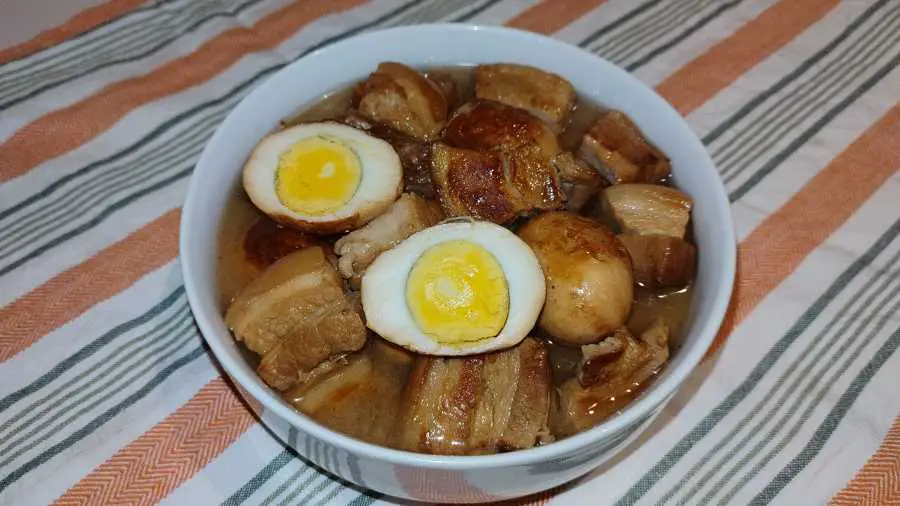 Other recipes that you may be interested in:
Delicious and Nutritious Carnivore Meatloaf Recipe
How to Cook and Enjoy Brains on the Carnivore Diet
Super Easy Carnivore Bone Broth Recipe
---
Disclaimer: The information in this post is for reference purposes only and not intended to constitute or replace professional medical advice. Please consult a qualified medical professional before making any changes to your diet or lifestyle.